As you may or may not know, February 11th is the International Day of Women and Girls in Science. I believe such a day should not just pass without being noticed, especially not in male-dominated environment like the TU/e. Luckily for us, TINT and WISE joined their forces to organize a beautiful celebration of this special day. This started with a delicious dinner in the Senaatszaal (which is a conference room with walls covered by many portraits of important men). The room was soon filled with the voices of the wide variety of attendees to this celebration. Interesting conversations started about personal experiences and opinions about the topic of this evening.  
After the dinner it was time to move towards the Blauwe Zaal to listen to the speakers of this evening.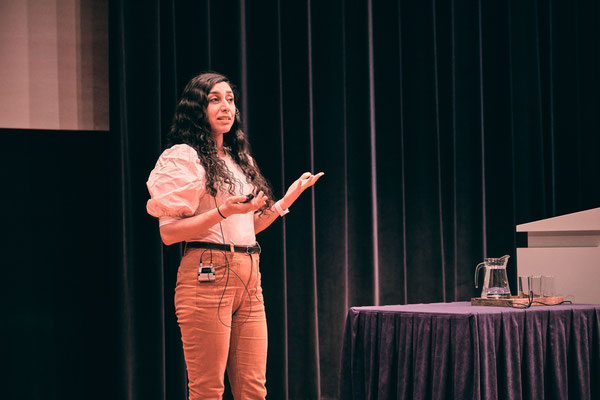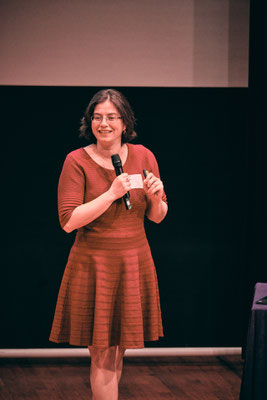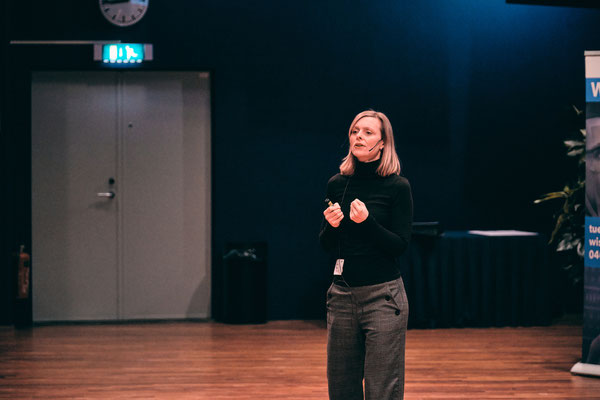 Engaging women in science
First, Sareh Heydari (PDEng and member of The Wave) told us in a mixture of data and personal stories about her vision on the current situation of women in science. She showed that the Netherlands doesn't score very well on engaging women in science. But you may ask yourself why this is such an issue.
Sareh has a clear answer to this: it is a human right to be able to enter any aspect of society. Furthermore, this will be beneficial for the whole society. Not only do you unlock half of the population's potential by engaging women, but also it enforces 'the power of diversity'.
Every person has a different view and approach to a problem, which will result in far more complete solutions to complex problems.
To encourage women, a role model is what we need. However, as Sareh makes clear, you don't need to invent something important to become one. It is far more important to dare to speak up for what you find important and Sareh is a beautiful and inspiring example of such a role model.
After this speech, Prof. Maria Vlasiou from the department Mathematics and Computer Science, told us about the history and current situation of women in mathematics, which is an even worse case than women in science in general.
Back in the days, women were considered to be not only mentally, but also physically unable to do mathematics. Luckily, there were some heroines who dared to stand up for their rights and came to exceptional achievements, as early as the ancient Greek times. However, many centuries later the situation of women in math is still far form ideal. But what about measures to improve this inequality?
Maria has a very strong opinion about this, which she explained by 'The Good, The Bad and The Ugly' types of possible measures. It was mind blowing how she showed that some measures can be unfriendly to women or based on assumptions that are unfriendly to women. Unfortunately, an evening does only have limited time, although I could have listened to Maria's interesting observations for another hour, we had to stop for the coffee break.
Nevertheless, the break also brought me interesting insights. I had a conversation with one of the board member of WISE about behavior that is unfriendly to women in different faculties at the TU/e. But we also had to cut this conversation short and we went back to the Blauwe Zaal to listen to the last speech.
"What about measures to improve inequality?"
Prof. Johanna Höffken, is a role model for Ana, one of the organizers and main presenter at this event. Johanna is a professor at the TU/e. She explained the importance of women in science for sustainable development. Again, she showed how important it is to use as many reference frames as possible to design for an equal and sustainable future. As a role model she tries to contribute by designing courses and education methods that encourage students to become responsible engineers. In this way she can make the world a better place and she inspires her students to do the same.
Inspired by all these wonderful stories, it was time for me and the other attendees to go to work.
Views of both men and women
"They make me want to do something about it."
Rachelle, one of the organizers and life coach from TINT opened the final part of this evening: the workshop. We had to visualize ourselves when we were 10 years old. She asked us to draw a scientist in our minds and she asked us whether this was a man or a woman. Just like the most people I envisioned a man with messy gray hair, having glasses and wearing a lab coat. Would you envision the same?
Luckily, there were some exceptions to these terrible stereotypes. One of the other attendees said that she as a child did not think in genders, because that doesn't happen as much in her country. It was something she was taught during her life, so she would have drawn the scientist gender less.
After this introduction we moved back to the Senaatszaal and were divided into groups. Every group would discuss two questions regarding women in science. I found it very interesting to listen to all the views of both men and women on why we should celebrate women in science. Furthermore, it was shocking to hear the stories of some women who were so discouraged to follow their dreams. Someone told us that she constantly has to prove that what she did was correct, while her male colleague does hot have to do this.
All of those shocking stories and facts I heard this evening make me vibrate with energy. They make me want to do something about it. But also, the positive conversations about realizing your dreams and overcoming the roadblocks on the way, inspire me. After this evening I feel even more motivated than ever before, to show the world what I can achieve as a girl in physics. Hopefully we can continue this inspiring tradition next year and many years afterwards, to keep motivation everyone to follow their dreams. 
Written by Nuriye van Lamoen
Photos by Juul van Geleuken
Video from Cursor by Kevin Tatar