By Laura Curta
(Original article can be found on Laura's blog)
It's March 2020 and almost everyone is indoors. People, no matter social status, location, gender, religious or political beliefs are trying to protect themselves and those dear to them from a virus which seems unstoppable and disrupts our lives in ways we could not have conceived. Suddenly, most of us have too much free time.
Now, I suffered from too much free time not long ago. After almost 4 years of working, nicely organised days, I found myself in a small village in the Netherlands, unemployed, with no friends. The first week was fun- sleeping, doing whatever I wanted whenever I wanted. The second week the dust stopped visiting me because it already knew, that in my house it could not settle. The third week I started to crave for a more organised lifestyle, more meaningful activities... I started to procrastinate and postpone things because there was always time, there was always a tomorrow without other plans. I started to feel as If I was becoming a pensioner at the age of 26. Not a fun time, I tell you!
The secret to overcoming this? A schedule! Yep, free time is nice and all until there's too much free time. Ironic, ha? Now, here are my tips and tricks for staying sane when suddenly you find yourself indoors, with too much free time on your hands, unable to carry on with your usual social and professional life:
1. Aim, focus, do.
A mind not kept in check will wander without an aim. It is very important to have a routine when you have too much free time and an endless possibility of postponing things without great consequences. You can do all of these or some of these:
Set times for breaks, lunch and dinner
Create morning and evening routines
Schedule things to look forward to: Pizza Delivery Monday, Long Bath Wednesday, Order New Books Sunday, etc.
Set certain times for chores (Monday is laundry day, Saturday is cleaning the floors day, etc)
Set a certain time for reading, journaling, etc.
Write a To-do list every evening and read it the next morning, while striving to complete it during the day.
The idea is to be able to always have something to look forward to, to know what's next and when certain things will happen. This will give you a sense of control over your everyday life and will enable you to keep the household tidy and your personal hygiene in check (we know damn well that sometimes we skip a day or two of showering if we know that we do not have to get out of the house). Having a plan will keep you focused and your mind busy with all the right things (avoid sitting on the sofa and entertaining dark thoughts, gloom and doom scenarios, worrying more than necessary and self-pity).
I aim at doing 10-15 min of yoga every day and 10-15 min of meditation each evening. For a while now, I have been using Grow- a cute app where you grow a tree while checking off each day when you do what you plan to do. It's free and honestly, I like it very much.
2. Move your body
If you can, go out in remote places: a forest, up a mountain, etc. If going out of the house is not negotiable, then make it a habit to move your body by doing some yoga, some workouts at home, dance, etc. You don't have to strain yourself too much but it's important to get out of your head and put the blood in circulation. I use the app Down Dog and on Youtube, I follow; Yoga with Adriene. There are many videos that you can follow without paying a cent.
3. Meditate
There are many kinds of meditation. I use the Headspace app, and I also like the Tide, app it keeps me focused when I have to do things and can also be used for mediation (I like the breathing exercise). Meditation quiets the mind and takes the edge of the soul when it's burdened with worries, fear and questions.
5. Read and learn
Oh, I have so many books aligned to read (about 10, to be more specific) and I need about 30 hours in a day to listen to all the podcasts I want to listen to, all the videos I want to watch and all the skills I want to hone. And I bet you are in the same situation. Some of you...
Grab a book, take an online course, watch a documentary. You do not have to become an expert in the field. Aim at satisfying your curiosity, expand your knowledge.
I think I will start listening to podcasts while embroidering.
Aim at satisfying your curiosity, expand your knowledge.
6. Keep in touch
Some of you are happy to be surrounded by people and write texts all day long. Some keep to themselves and do not like to be flooded by messages on Facebook, Skype, etc. Each to their own. No matter what's your approach to being a social being, make sure that you take a bit of time to scan your contacts' lists and check-in with the people you feel the closest to. A short text is enough. Call for a few minutes. You can even set time, each day, when you spend time answering all messages and all email.
I would even advise against sitting with your phone in your hands, absorbed by the screen all day. Use this free time to be alone, without the barrage of social media.
Better times will come - this is just the bridge we have to cross in order to get there.
7. Help and ask for help
If you can, offer your help to those who have less than you have. We can all help by having an open mind and being available when others need to talk about what they go through. Assist the elderly or people who are having some other health problems (but make sure they are not contagious!). If you have more food than you need or anything that you can spare and can be helpful to someone else, consider sharing or donating.
And if you find yourself in need, be it the need to talk to someone or some household essentials are missing, ask for help. You have friends, family and good-hearted neighbours. Reach out to coaches or psychologist if you feel that the times you live through are taking a toll on your mental well-being.
So, I hope that this helps and inspires you to find your own way and specific things to do in order to make the most of the newly found free time. And do not forget, better times will come - this is just the bridge we have to cross in order to get there. Keep living your life, always try your best, and stay healthy.
About Laura, the author of this article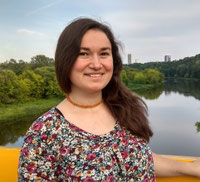 I am a life coach and a personal- development trainer.
My purpose is to share my knowledge and help people set goals and plan their life without being stressed, anxious or held back by limiting beliefs and negative thoughts.
I, myself, did a lot of work (and most probably I will keep improving all my life) when it comes to becoming a more grounded and mature person. Reading and learning about personal development helped me not only to settle in 2 different countries but make the most of my stay even when circumstances weren't in my favour.
This coaching practice is my passion project. It is my way of making a living and giving back to society, my reason to overcome all kind of negative thoughts and fears and show up as I am, honest, willing to help and wanting to connect with as many people as possible.
I work with expats and not only. I work with those who feel that they reached a dead-end in their lives, who find themselves shaken up by unexpected events, significant life changes.