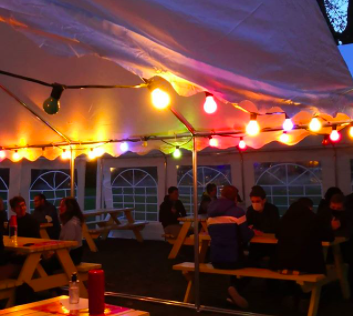 Last week Wednesday, TINT organized together with Cosmos the 'First Impressions meet-up' on the Koeveld.
It was a fun and relaxed evening (for the participants at least, I was super stressed in the beginning). When the first guests arrived, we hadn't yet managed to get up the tent that was supposed to give us some warmth and comfort on the chilly October evening. Luckily, as kind as the attendees were, they helped us getting up the tent so we could start the actual event.
We started with social distance platonic speed dating. There was a cozy atmosphere, and soon the tent was full of sounds of deep conversations and laughter. It was funny to see how well you can get to know someone in 5 minutes just by asking the right questions.
Then, it was time for some delicious international food. Meanwhile, we kept talking. Since I was the only Dutch person at the table, we spoke a lot about Dutch culture and the prejudices about it, which was very funny for me. But we also spoke about the countries the others came from, about all the different languages. We saw the beautiful and funny parts of our differences and it really felt like I was making new friends. But there was also a more serious part in our conversation, because Dutch and international students hardly seem to mix. This is not only a pity because it makes your network much smaller, but it also does not allow you to easily learn to speak Dutch and being stuck at home does not improve that either.
After the delicious snacks we went on to a quiz. There were questions about Dutch culture (which were so hard that I couldn't answer most of the questions), worldwide diversity and diversity within the Netherlands. The quiz turned out to be so hard that every team had between 7 to 9 answers correct out of 20 questions. It came down to the fact that every team was either first second or third, so we all won a price (Yay for chocolate)!
Meanwhile, it was already dark outside and incredibly cold for the people that are not used to the dutch weather. Yet despite this horror, most people stayed to help wrap up. The great conversations continued and I felt completely relaxed. I was glad to be a part of this, to allow these people to connect with others again, and possibly to make friends for life.
Written by Nuriye van Lamoen