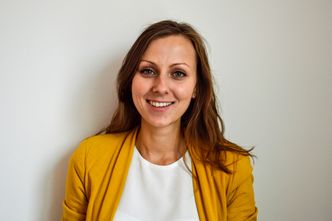 Izabella, TINT's life coaching intern in 2021, knows all about starting from scratch! She is born and raised in Serbia, then lived in Hungary for some time before moving to the Netherlands for work. She has been living in Eindhoven for 2,5 years at the time she wrote this blog and really enjoys exploring the country and her new life. "I've started over from scratch a few times in my life now, so adapting to new environments, learning to become more resourceful and resilient is one of the topics I am fascinated with. I am also interested in positive psychology, especially how to find happiness and the right activities and environments that can truly engage us."
As a coach she can help with topics related to career and education, such as how to find the most suitable working environment for you. And as an expat she is pleased to help with the personal challenges you might be facing coming from abroad to the Netherlands.
Moving to a different city to start my studies was a big thing for me. Later on, when moving to an even bigger city to start my Master's degree program was just a whole new level of change for me. After spending 3 years with my Bachelor studies, I really got comfortable with the city I lived in. At the same time, it didn't give me the perspective to build my life further and I was happy to learn I was accepted for a Master's degree program in a different city. I was excited and sad at the same time: sad to leave but looking forward to the positive change. It's almost like when you finish reading a book and start a new one: faces and places are new, you have to get acquainted and adjusted to the new atmosphere before feeling good in the new environment. It takes time, for sure. It also creates some opportunities to reflect, learn and try to do things differently. Here come my tips and tricks to get the best out of the new situation for yourself. And don't forget, it is never too late to try them out! 😉
Say goodbye to your old home
On one of the last days I spent in the 'old' city, I decided to say goodbye to the city. I went for a long walk, I visited the places we went out a lot to, walked past the river, sat down at the main square in the park. I even went to the university building to take a last glimpse. It was a nice way of reflecting on all the good and bad that happened during those 3 years, embrace them and let go. I closed the last page of that book, put it on the shelf, and took a new one with full confidence and readiness.
Be a tourist
Upon arrival to the new city, whenever I could I went to discover it. From museums to shopping streets, malls and coffee places, from scenic routes to the local weekly market... I tried them all. It helped me get to know the city, get a feeling of familiarity and find the places I would visit regularly. Believe it or not, finding a shoe repairer and a hairdresser were the first things that made me feel at home again.
Set your priorities
Starting over presents a great opportunity to redefine yourself, break the cycle, try out new things and go for the next step. To help you set your plans you can try this exercise: Wheel of life. It will help you assess where you are at in certain important life areas. Once completed, take the time to reflect, think about what struck you and what you would like to see differently (e.g. due to moving to a new place, I rated the Friends domain really low... I definitely didn't like it, so I decided to change that). Feel free to write down a couple of ideas that can help you reach your goals in these domains and look for opportunities to put them in action.
Build friendships while having fun
Just by having a group of friends around us can help enormously to feel more at home at a new place. Think about what are the things you like to do (or would like to try), and find a group sharing the same passion. Building connections when you share the same interest is just so much easier! Maybe you like photography, look for a group of hobby photographers, or hikers to join to take photos as you walk. Maybe you like reading or watching movies, a book club or movie club can be easily found (or established) at campus. In these corona times it may be more challenging to socialize… luckily technology serves us well, and the meetings continue online. It may be a bit strange at first, but nonetheless worth trying!
Be bold
Be bold
My plus one tip is to take this unique opportunity of a clean slate. You can experiment, try out things, maybe even things that you wouldn't have done at your old place. See if it fits you, maybe it does and you'll experience something cool. Keep an eye on for opportunities, they can literally come to your way anytime.
To settle down at a new place is not easy. Sometimes, we may feel lonely, lost or even regretting our choice to come there in the first place. With the tips above I hope you will find your way around and make the first step. From there, every single next move will be easier. Should you feel somewhat stuck with starting over, you can reach out to TINT to work with a life coach on finding your way forward.