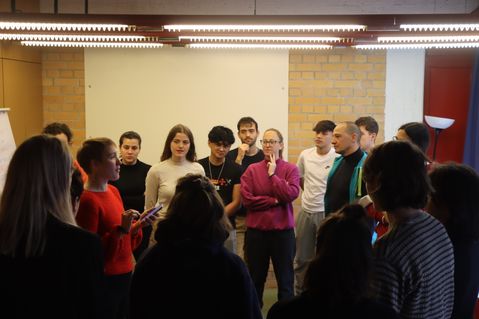 A few weeks ago, I got the unique opportunity to attend an all-expenses-paid training course called "Against Hate" in Berlin. Without really knowing what to expect, I took this opportunity with both hands and I haven't regretted it for a single bit. 
Together with 15 other people, primarily people in their twenties, from all over Europe, we started this great journey. After the first day of getting to know each other, we were ready to start the program. The program included little theoretic introductions and then diving into the topics together, by sharing our experiences, having group discussions, and challenging our own ideas. The program started with an introduction to the link between hate speech and freedom of speech and the differences between them. This introduction also included discussions within the group about people's points of view, which was extra interesting due to the many different backgrounds of everyone. 
Since you're probably also quite curious about where freedom of speech meets hate speech, I shall explain a bit of what we learned. But I must warn you, it's just the tip of the iceberg and nothing is set in stone. Let's start with creating a mutual understanding of the words by looking at some definitions. 'Hate speech' can be seen as all forms of expression which spread, incite, promote or justify hate, including (but not limited to): intolerance expressed by aggressive nationalism, discrimination, and hostility against minorities. 'Hate speech' can range from offensive jokes to calls for mass murder. 'Freedom of speech' is the freedom to express yourself both online and offline and to have access to information. 'Freedom of speech' includes political speech, views on religion, opinions, and even expressions that may offend, shock, or disturb others. But then the question remains, where do you draw the line between the two? It's important to note that hate speech can only be directed at individuals or groups of individuals. It doesn't include communication about States and their offices, symbols, or public officials, nor about religious leaders or tenets of faith. So saying that you don't like certain ideas is using your freedom of speech, but calling someone stupid for having those ideas is considered hate speech. It might sound odd that public officials and religious leaders are exceptions to this rule since they are also still human. But if you look at North Korea or Russia, you can imagine why it is important to be allowed to say things about them. Again, I want to stress that this is just a part of ONE definition, there is no clear definition of hate speech written in the universal declaration of human rights and therefore it is still up for debate. 
Something that was really an eye-opener for me during the course was on non-violent communication. During this part of the training, I learned that my ideas and opinions on people rather reflect me than the other people. I learned this via an exercise in which you start with a sentence like "Violence is bad. People who kill are evil." which we would then rewrite into a personal emotion and the cause for that emotion which is a value of ours that is violated. So in this example, it could be "I am fearful of the use of violence to resolve conflicts; I value the resolution of conflicts through other means." So you are not pointing fingers and attributing bad labels to people, but you are looking at why it triggers certain emotions for you. I personally started with the sentence (and please don't be offended by it, since it says more about me than about other people): "People who believe that the earth is flat are stupid; they don't have the capacity to understand science." With the previous example given, would you be able to change my sentence into one that expresses emotions and values?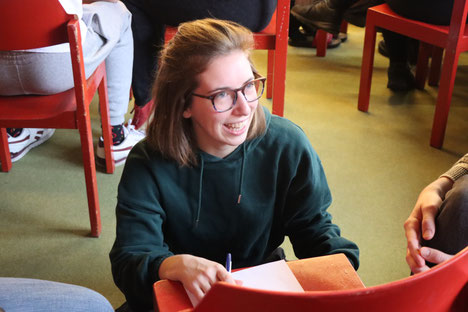 I could write for hours about the amazing experience I had, about all the insights I gained, about the interesting discussion with the other participants, about the lovely group that made the trip one to never forget, about the craziest party I have ever been to (cause, of course, there was some free time, and boy, let me tell you, going out in Berlin is something else), but that would turn this blog into a book… However, if you want to learn more about these topics, I can already reveal that there might be a TINT workshop about it coming up, so keep an eye on our socials… And if I sparked your curiosity about going on such a special trip in Europe to work on projects on education, youth, or equal rights (to name a few); it's funded by Erasmus+, and invites to projects are shared on the Instagram page of erasmusplusprojects. Both from an educational and from a personal perspective it is a very valuable experience that I would definitely recommend to everyone.
Kimberly Drabbels
Program manager at TINT