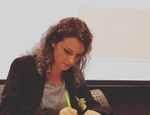 My name is Michelle, I have been working at TINT for a year now as a researcher on loneliness. I started this research as a graduation thesis, during my study Applied Psychology at Saxion, in which I focused on neuropsychology, with a minor in clinical psychology. Now I work a part-time job for TINT, in which I fully get to focus on the topic of loneliness, while keeping the general well being of students in mind.
Cause
During an event, where the emphasis was on connecting students, TINT noted that students felt lonely, and that a lot of students didn't know about / attend TINT events (which are mainly focused on connecting, personal growth and well being). TINT wondered why this happened and what factors played a role in this. As a result, TINT asked me to start a study and find out how many students felt lonely and which factors played a role in experiencing loneliness.
By deploying a survey on social media, different students have shared their experiences. And it turns out that (other than general beliefs) both international as well as Dutch students can experience loneliness just as often. Students who live on campus would experience loneliness a little more often than students who live elsewhere. Also this research shows that faculties such as Mathematics and Computer Science and Industrial Engineering & Innovation Sciences would be more likely to have students who experience loneliness.
Despite this, however, the most important conclusion is one that is both surprising as well as a logical one, when you come to think of it: we see is that there is no group excluded from loneliness. 
"No group of people is excluded from loneliness"
With these results, we realize that, to make a difference, there is no simple answer (yet) to help students who experience loneliness. We need to do a lot more research and will continue our involvement in this topic. To read about what we have come to understand up until now, you are welcome to read my research and results below.
Student well being is and will always remain important, which is why we continue to work on student well being.